TECHNICAL MANUALSEALED LEAD-ACID BATTERIES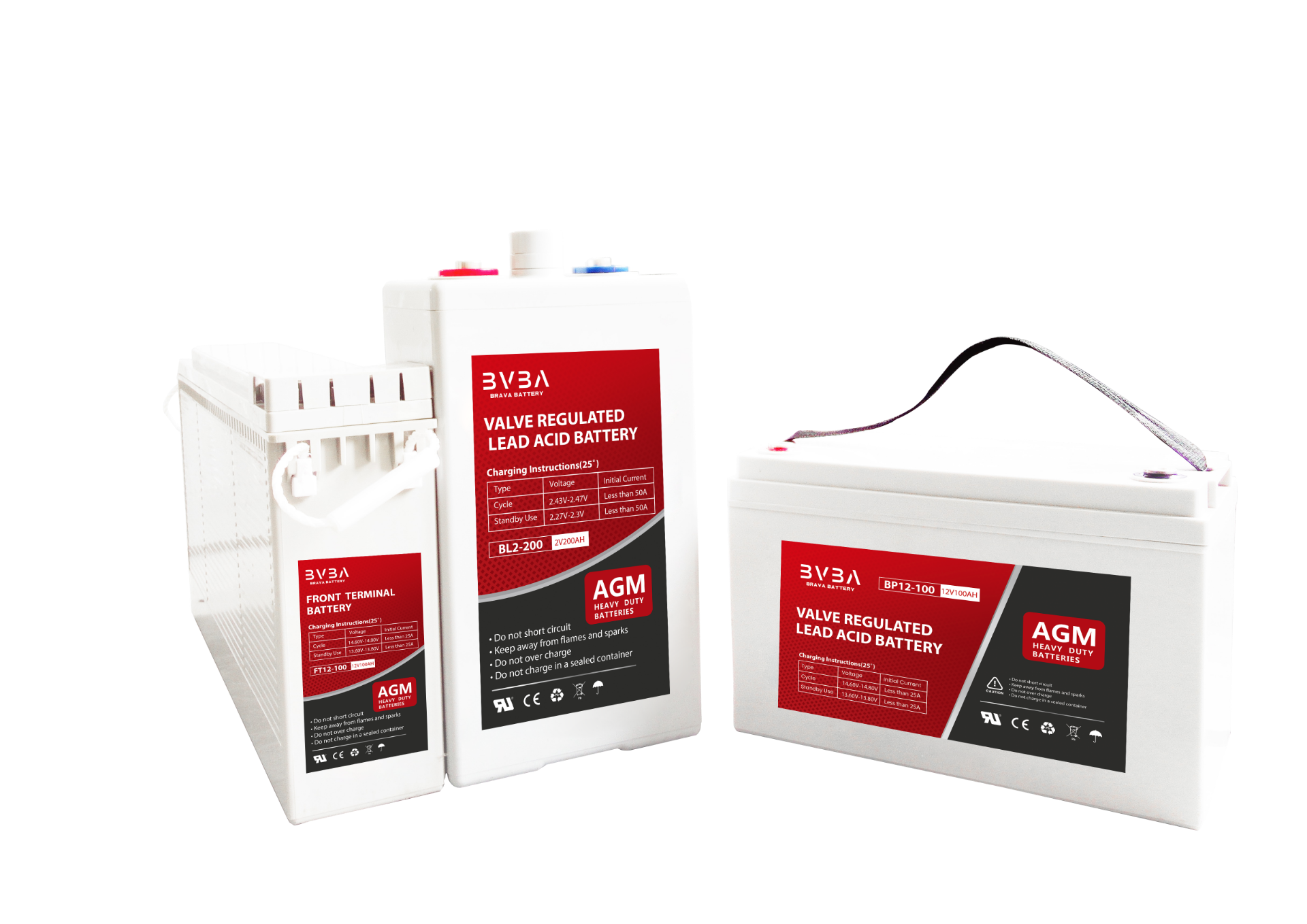 Features of Brava-Batteries Sealed Lead Acid Batteries.................................................1
Construction ........................................................................................................2
Theory of Operation ..................................................................................................3 & 4
Battery Capacity ........................................................................................................5 & 6
Battery Capacity Selector................................................................................................7
Performance Data............................................................................................................8
Discharge..................................................................................................................................8
Open Circuit Voltage.................................................................................................................8
Temperature .............................................................................................................................9
Shelf Life and Storage ...........................................................................................................10
Battery Life .......................................................................................................................10-11
Over Discharge.......................................................................................................................12
Charging...........................................................................................................................12
Charging Techniques Summary ............................................................................................13
Charging Characteristics........................................................................................................13
Charging Methods..................................................................................................................13
Constant Voltage Charging ....................................................................................................14
Constant Current Charging....................................................................................................15
Taper-Current Charging..........................................................................................................15
Overcharging ..........................................................................................................................16
Undercharging........................................................................................................................16
Charging for Cycle Operation.................................................................................................16
Charging for Standby Operation............................................................................................16
Two-Step Constant Voltage Charging ....................................................................................17
Charging in Series..................................................................................................................17
Charging in Parallel................................................................................................................18
Temperature Compensation..................................................................................................18
Top Charging...........................................................................................................................18
Charging Efficiency.................................................................................................................19
Important Do's and Don'ts............................................................................................20
Handling..................................................................................................................................20
Installation..............................................................................................................................20
Charging..................................................................................................................................21
Notes ................................................................................................................................22
Glossary ...........................................................................................................................24
Table of Contents
Features of Brava-Batteries Sealed Lead Acid Batteries
Sealed/Maintenance–Free
The valve regulated spill proof construction allowstrouble-free safe operation in any position. There is noneed to add electrolyte, as gases generated during thecharge phase are recombined in a unique "oxygen cycle".Brava-Batteries sealed lead acid batteries can be operatedin virtually any orientation without the loss of capacity orelectrolyte leakage. However, upside down operation isnot recommended.
Long Shelf Life
A low self-discharge rate, up to approximately 3% permonth, may allow storage of fully charged batteriesfor up to a year, depending on storage temperatures,before charging becomes critical. However, we stronglyrecommend that all batteries should be recharged withinsix months of receipt as it will enhance their long term life.Please refer to this Technical Manual and individualbattery specification sheets for more details.
Design Flexibility
Same model batteries may be used in series and/orparallel to obtain choice of voltage and capacity. Thesame battery may be used in either cyclic or standbyapplications. Over 80 models available to choose from.
Deep Discharge Recovery
Special separators, advanced plate composition and acarefully balanced electrolyte system ensure that thebattery has the ability to recover from excessively deepdischarge.
Economical
The high watt-hour per dollar value is made possible bythe materials used in a sealed lead-acid battery; they arereadily available and low in cost.
Easy Handling
No special handling precautions or shipping containers,surface or air, are required due to the leak-proofconstruction
Compact
Brava-Batteries batteries utilize state of the art design, highgrade materials, and a carefully controlled plate-makingprocess to provide excellent output per cell. The highenergy density results in superior power/volume andpower/weight ratios.
Low Pressure Valve Regulators
All batteries feature a series of low pressure one-wayrelief valves. These valves safely release any excessiveaccumulation of gas inside the battery and then reseal.
High Discharge Rate
Low internal resistance allows discharge currents of upto ten times the rated capacity of the battery. Relativelysmall batteries may thus be specified in applicationsrequiring high peak currents.
Wide Operating Temperature Range
Brava-Batteries batteries may be discharged over atemperature range of -40°C to +60°C (-40°F to +140°F) and charged at temperatures ranging from-20°C to +50°C (-4°F to +122°F).
Rugged Construction
The high impact resistant battery case is made of nonconductive ABS plastic. The case materials impart greatresistance to shock, vibration, chemicals and heat.Flame Retardant (FR) battery cases and lids are availablewhere the end application dictates.
Long Service Life
PS/PSH and PSG Series: Have a design life of up to fiveyears in standby applications. In cyclical applicationsup to 1,000 charge/discharge cycles can be expecteddepending on average depth of discharge.PG Series: Have a design life of up to 10 years in floatapplications.Please consult this Technical Manual and productspecifications to become aware of the many factors thateffect product life.
Battery Construction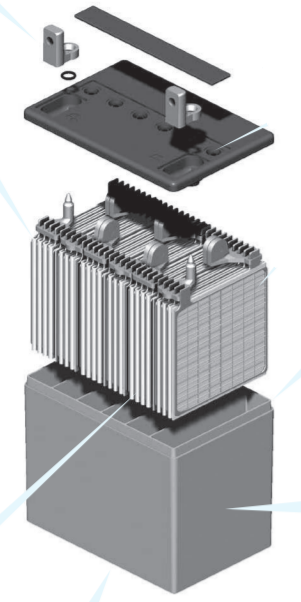 Terminals
Depending on the model, batteries come either with AMP Faston typeterminals made of tin plated brass, post type terminals of the samecomposition with threaded nut and bolt hardware, or heavy duty flagterminals made of lead alloy.A special epoxy is used as sealing material surrounding the terminals.
Plates (electrodes)
Brava-Batteries utilizes the latesttechnology and equipment tocast grids from a lead-calciumalloy free of antimony. Thesmall amount of calcium andtin in the grid alloy impartsstrength to the plate andguarantees durability even inextensive cycle service. Leaddioxide paste is added to thegrid to form the electricallyactive material.In the charged state, thenegative plate paste is purelead and that of the positivelead dioxide. Both of these arein a porous or spongy form tooptimize surface area andthereby maximize capacity. Theheavy duty lead calcium alloygrids provide an extra margin ofperformance and life in bothcyclic and float applications andgive unparalleled recovery fromdeep discharge.
Electrolyte
Immobilized dilute sulfuricacid: H2S04
Leakproof Design & Operational Safety
The leak proof construction of Brava-Batteries batteries hasensured that our batteries have been approved forshipment by air, both by D.O.T. and I.A.T.A. Copies ofthese approvals are available on our website:www.BravaBatteries.com.U.L's component recognitionprogram for emergency lighting andpower batteries lists Brava-Batteriesunder file number MH20845
Relief valve
In case of excessive gas pressure build-upinside the battery, the relief valve will openand relieve the pressure. The one-way valvenot only ensures that no air gets into thebattery where the oxygen would react withthe plates causing internal discharge, butalso represents an important safety device inthe event of excessive overcharge.Vent release pressure is between 2-6 psi; theseal ring material is neoprene rubber.
Separators
Brava-Batteries separators are madeof non-woven glass fiber clothwith high heat and oxidationresistance. The material furtheroffers superior electrolyteabsorption and retaining ability,as well as excellent ionconductivity
Case Sealing
Depending on the model the casesealing is ultrasonic, epoxy orheat seal.
Container
Case and lid material is ABS,high impact, resin with highresistance to chemicals andflammability. Case and cover aremade of non-conductive ABSplastic to UL94-HB or UL94 V-O.This case has molded-in dividersfor each 2 volt cell.
Theory of Operation
The basic electrochemical reaction equation in a lead acid battery can be written as:

Discharge
During the discharge portion of the reaction, lead dioxide (PbO2) is converted into lead sulfate (PbSO4) at the positiveplate. At the negative plate sponge lead (Pb) is converted to lead sulfate (PbSO4). This causes the sulfuric acid (2H2SO4)in the electrolyte to be consumed.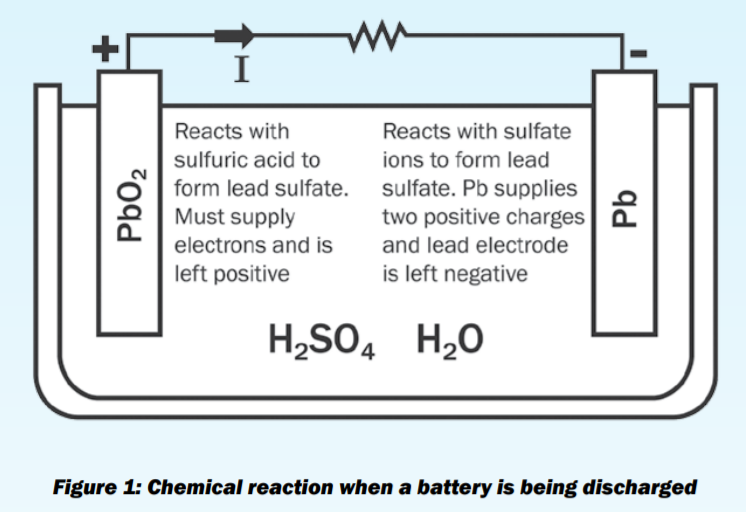 Charge
During the recharge phase of the reaction, the cycle is reversed. The lead sulfate (PbSO4) and water areelectrochemically converted to lead (Pb), lead dioxide (PbO4) and sulfuric acid (2H2SO4) by an external electrical chargingsource.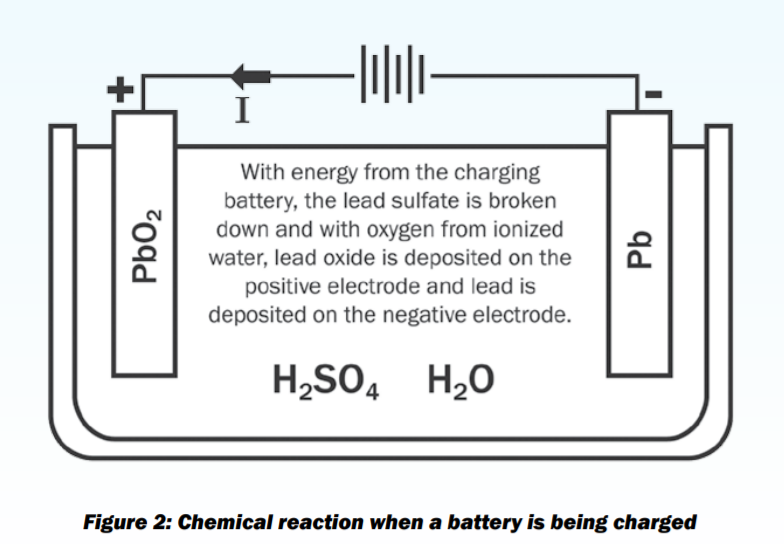 Oxygen Recombination
To produce a truly maintenance-free battery, it is necessary that gases generated during overcharge are recombined ina so-called "oxygen cycle". Should oxygen and hydrogen escape, a gradual drying out would occur, eventually affectingcapacity and battery life.
During charge, oxygen is generated at the positive and reacts with and partially discharges the sponge lead of thenegative. As charging continues the oxygen recombines with the hydrogen being generated by the negative, formingwater. The water content of the electrolyte thus remains unchanged unless the charging rate is too high.
In case of rapid generation of oxygen exceeding the absorbing capacity of the negative plate, the pressure relief valvewill open to release excessive gas.
Deep Discharge
Brava-Batteries batteries are protected against cell shorting by the addition of a buffering agent that ensures the presenceof acid ions even in a fully discharged state.Brava-Batteries defines "deep discharge" as one that allows the battery voltage under load to go below the cut-off (or"final") voltage of a full discharge.
The recommended cutoff voltage varies with the discharge rate. Table 1 shows thefinal discharge voltages per cell.
It is important to note that deep discharging a battery at high rates for short periods is not nearly as severe asdischarging a battery at low rates for long periods of time. To clarify, let's analyze two examples:
• Battery A – Discharged at the 1C rate to zero volts.
"C" for a 4 AH battery, for example, is 4 amps. Full discharge is reached after about 30 minutes whenthe battery voltage drops to 1.5V/cell. At this point, only 50% of rated capacity has been discharged (1C amps x 0.5 hrs = 0.5C Amp. Hrs). Continuing the discharge to zero volts will bring the total amount ofdischarged ampere-hours to approximately 75% because the rapidly declining voltage quickly reducescurrent flow to a trickle. The battery will recover easily from this type of deep discharge.
• Battery B – Discharged at the 0.01 C rate to zero volts.
0.0IC for a 4 AH battery is 40mA. Full discharge is reached after 100+ hours when the terminal voltagedrops to 1.75 V/cell. At this point, the battery has already delivered 100% of its rated capacity (0.01 x100 hrs = 1C Amp. Hrs.). Continuing the discharge to zero volts will keep the battery under load for afurther period of time, squeezing out every bit of stored energy.
This type of "deep" discharge is severe and is likely to damage the battery. The sooner a severelydischarged battery is recharged, the better its chances to fully recover.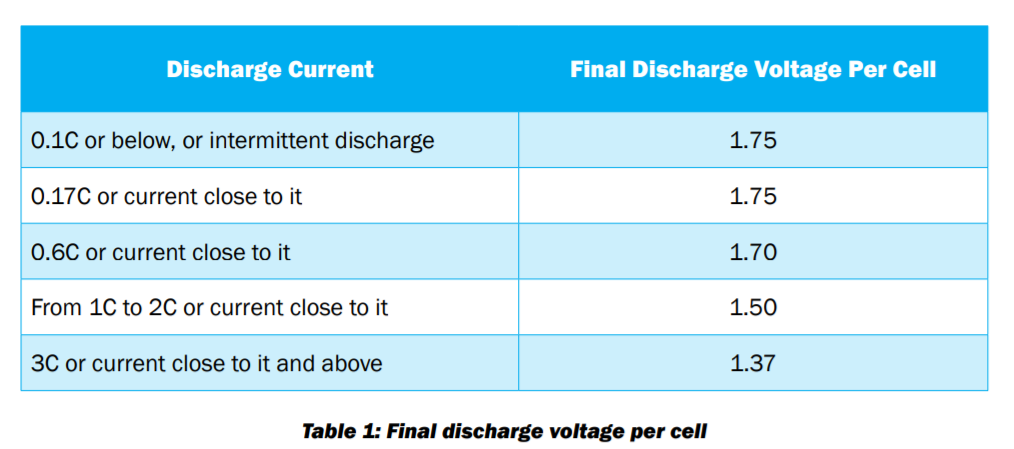 Capacity
The capacity of a battery is the total amount of electrical energy available from a fully charged cell or cells. Its valuedepends on the discharge current, the temperature during discharge, the final (cut-off) voltage and the general historyof the battery.
Table 2 shows capacities for various multiples of the 20-hour discharge current for PS, PSH and PSG models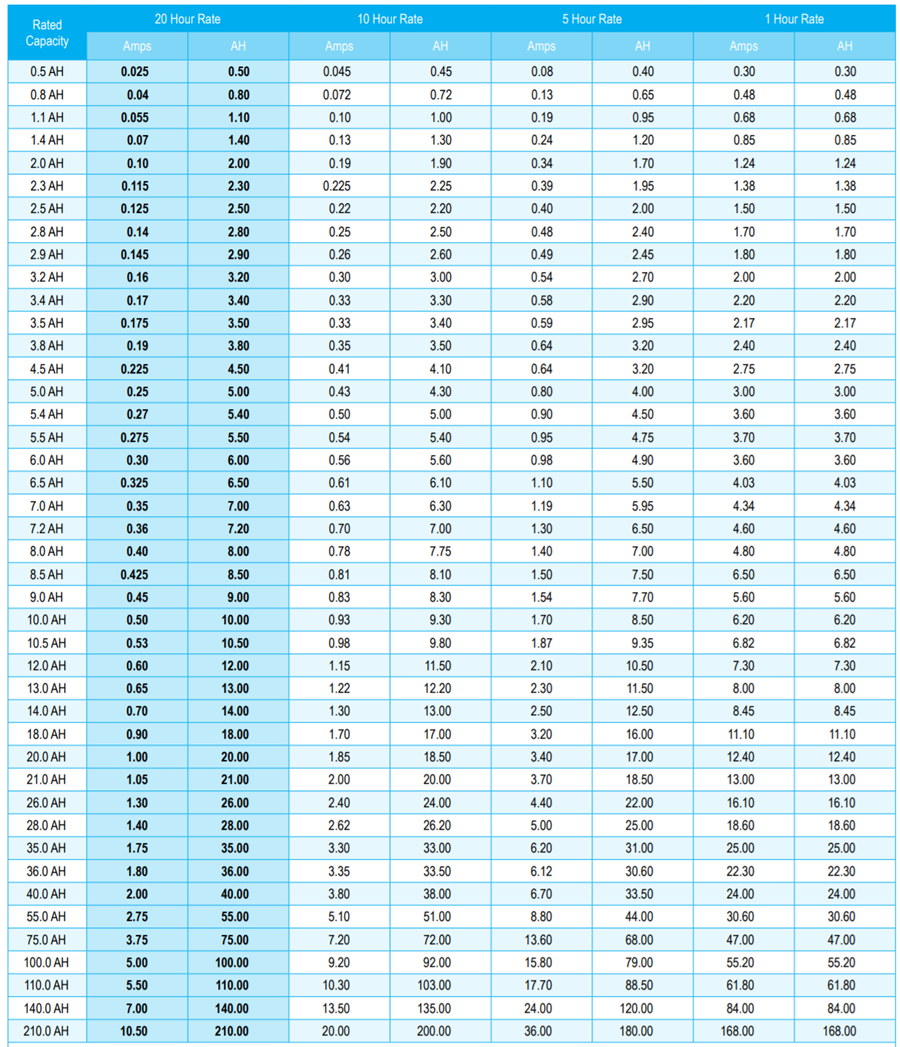 Table 3 shows capacities for various multiples of the 20-hour discharge current for PG models.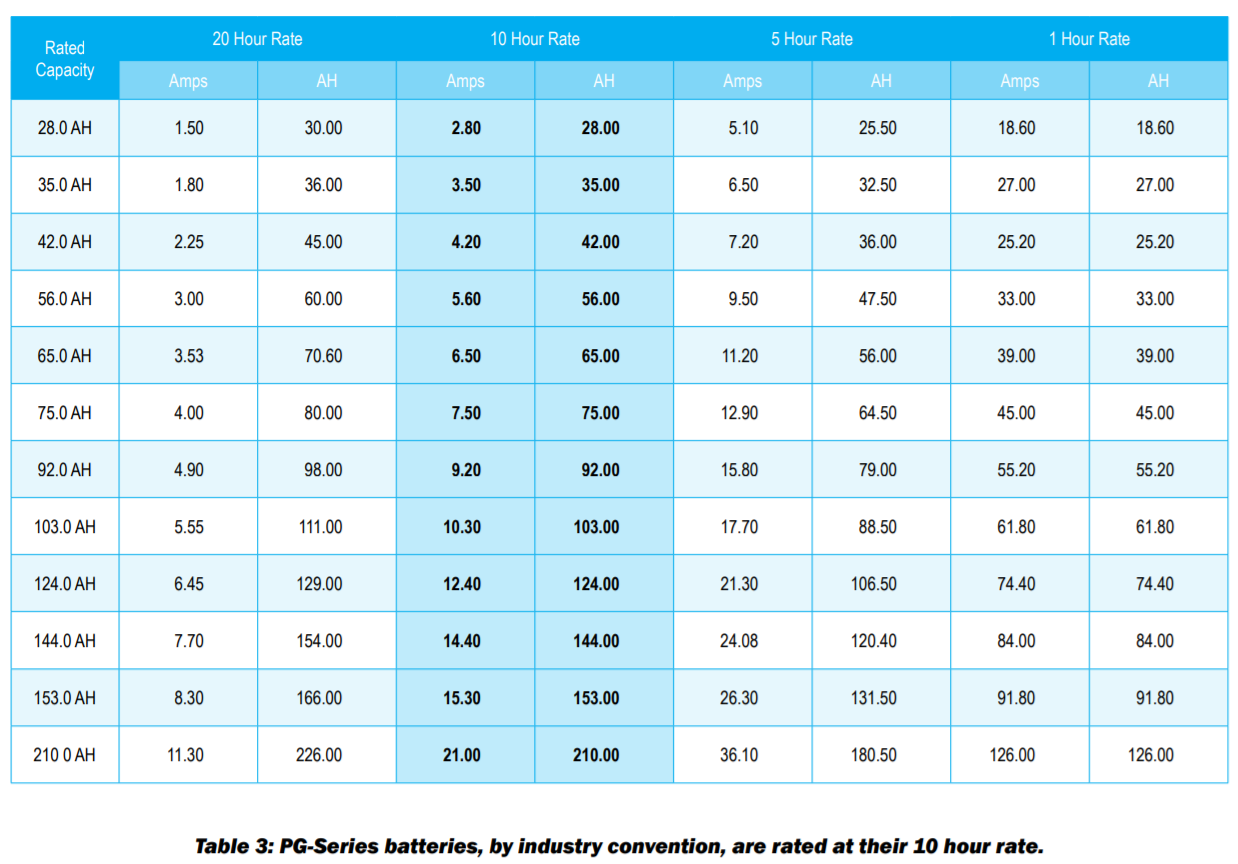 Capacity, expressed in ampere-hours (AH), is theproduct of the current discharged and the length ofdischarge time. The rated capacity (C) of a PowerSonic battery (PS, PSH and PSG-Series) is measuredby its performance over 20 hours of constant currentdischarge at a temperature of 20°C (68°F) to a cutoff voltage of 1.75 volts/cell.
As an example, model PS-610, with a rated capacity of1.1 AH will deliver 55mA (1/20 of 1.1 AH, or 0.05C) for20 hours before the voltage reaches an end voltage of5.25 volts.
By cycling the battery a few times or float chargingit for a month or two, the highest level of capacitydevelopment is achieved. Brava-Batteries batteriesare fully charged before leaving the factory, but fullcapacity is realized only after the battery has beencycled a few times or been on float charge for sometime.
When a battery discharges at a constant rate, itscapacity changes according to the amperage load.Capacity increases when the discharge current is lessthan the 20 hour rate and decreases when the currentis higher.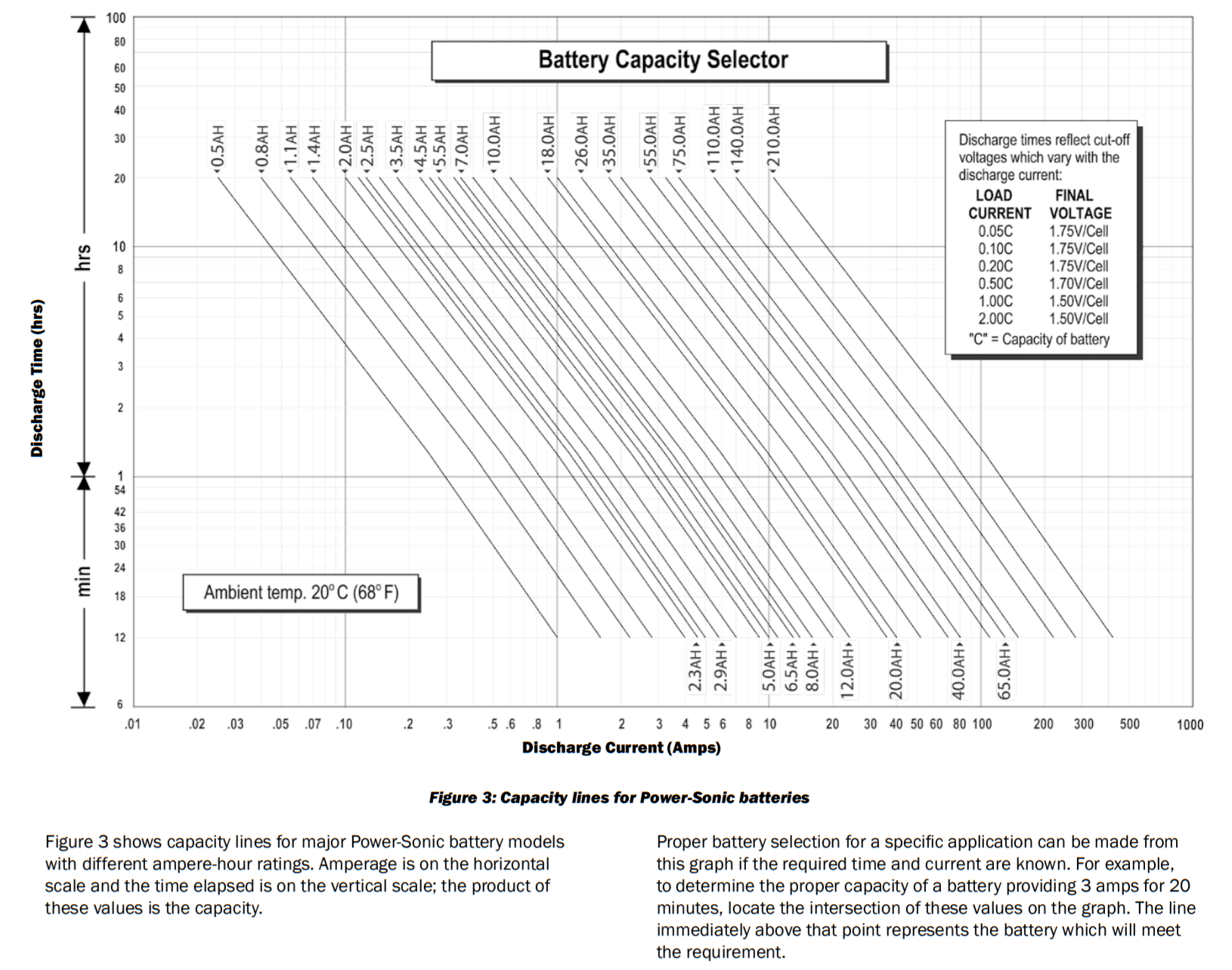 Performance Data
Discharge
During discharge the voltage will decrease. The graphs in Figure 4 illustrate this for different discharge rates andambient temperatures. "C" is the rated capacity of a battery: "C" for model PS-61O (6V – 1.1 AH) is 1.1AH. Byconvention the rating of nearly all sealed-lead acid batteries, is based on a 20-hour (0.05C) discharge rate. For largerbatteries used for telecom and large UPS systems (our PG-Series) the convention is to use a 10-hour rate (0.1C).
An important feature of Brava-Batteries batteries is shown in the discharge curves; namely, the voltage tends to remainhigh and almost constant for a relatively long period before declining to an end voltage.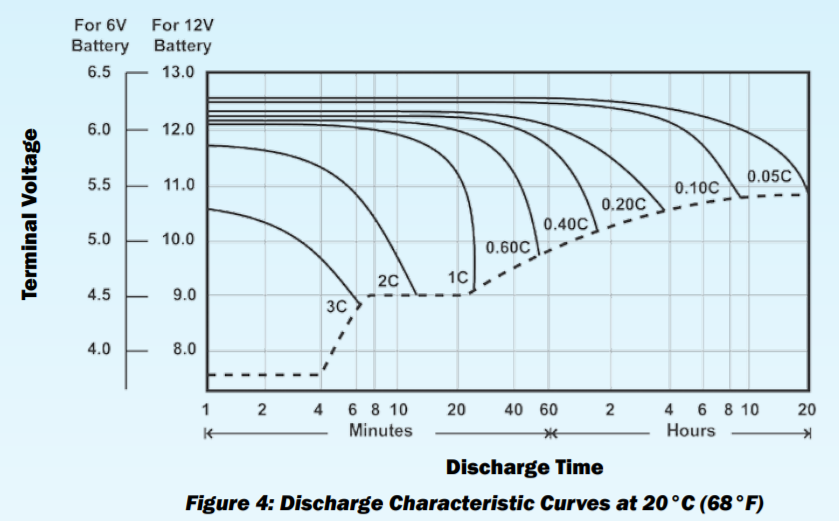 Open-Circuit Voltage
Open circuit voltage varies according to ambient temperature and the remaining capacity of the battery. Generally, opencircuit voltage is determined by the specific gravity of the electrolyte. Discharging a battery lowers the specific gravity.The open circuit voltage of a Brava-Batteries battery is 2.16 V/cell when fully charged and 1.94 V/cell when completelydischarged.
As seen in Figure 4, under load, the battery can deliver useful energy at less than 1.94 V/cell, but after the load isremoved the open circuit voltage will "bounce back" to voltages shown in Figure 5, dependent upon residual capacity.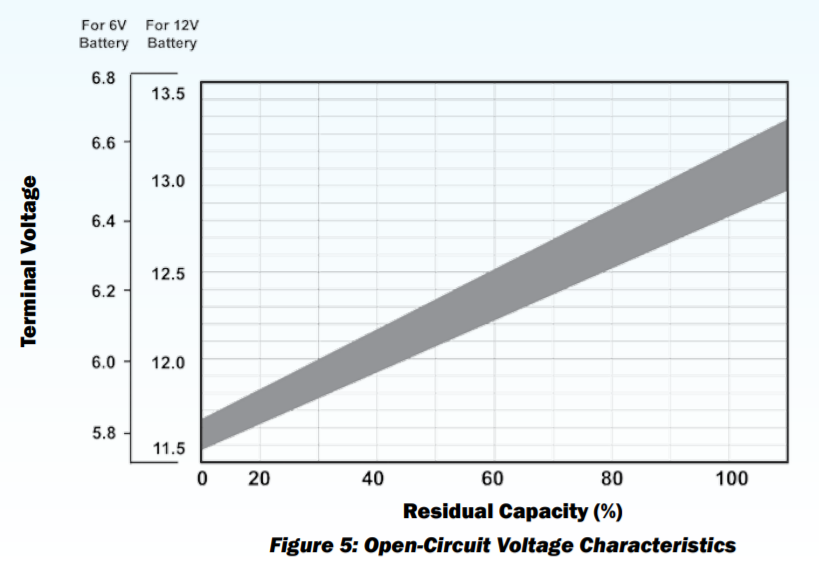 Temperature
Actual capacity is a function of ambient temperature and rate of discharge. At 20°C (68°F) rated capacity is 100%.The capacity increases slowly above this temperature and decreases as the temperature falls. Even at -40ºC (-40°F),however, the Brava-Batteries battery will still function at better than 30% of its rated capacity when discharged at the 20-hour rate (0.05C). At any ambient temperature, the higher the rate of discharge, the lower the available capacity. Thisrelationship is shown in Figure 6.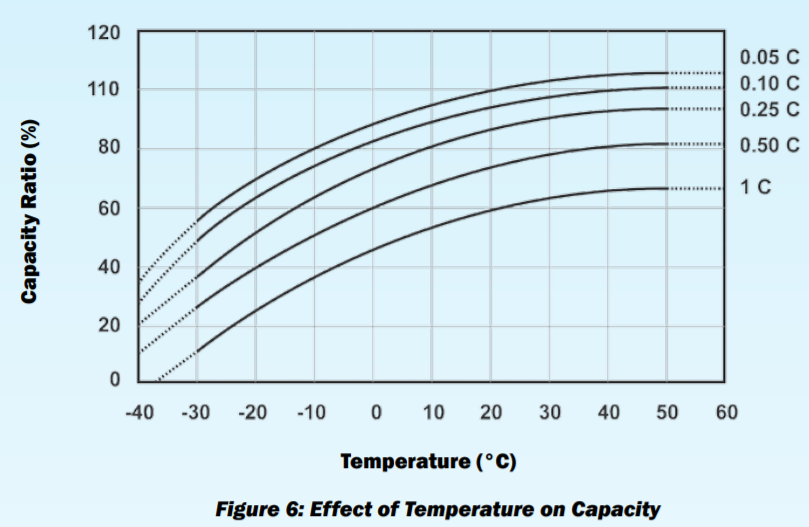 Brava-Batteries batteries may be discharged at temperatures ranging from -40°C to 60°C (-40°F to 140°F) and chargedat temperatures from -20°C to 50°C (-4°F to 122°F).While raising ambient temperature increases capacity, it also decreases useful service life. It is estimated that batterylife is halved for each 10°C (18°F) above normal room temperature.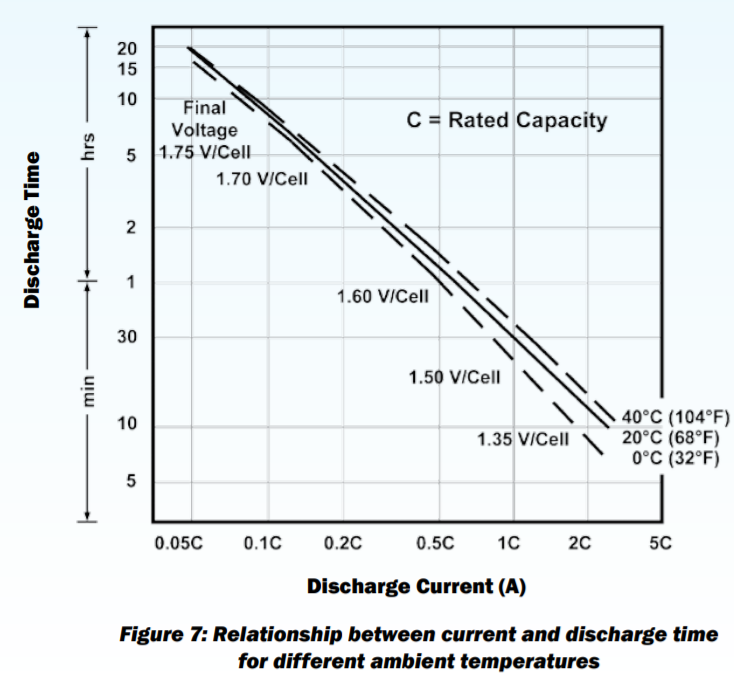 Shelf Life & Storage
Low internal resistance and special alloys in the electrodes assure a low self discharge rate and, consequently, a longshelf life. If kept at 20°C (68°F), about 60-70% of the nominal capacity remains after one year of storage. Due to theself-discharge characteristics of this type of battery, it is imperative that they be charged within 6 months of storage,otherwise permanent loss of capacity might occur as a result of sulfation.
The rate of self discharge varies with the ambient temperature. At room temperature (20°C (68°F)) it is about 3% permonth. At low temperatures it is nearly negligible; at higher ambient temperatures self discharge increases.To obtain maximum battery life and performance, batteries should be recharged as soon as possible after each use andnot stored in a discharged state. If possible batteries should be stored at 20°C (68°F) or lower, and recharged every sixmonths when not in use.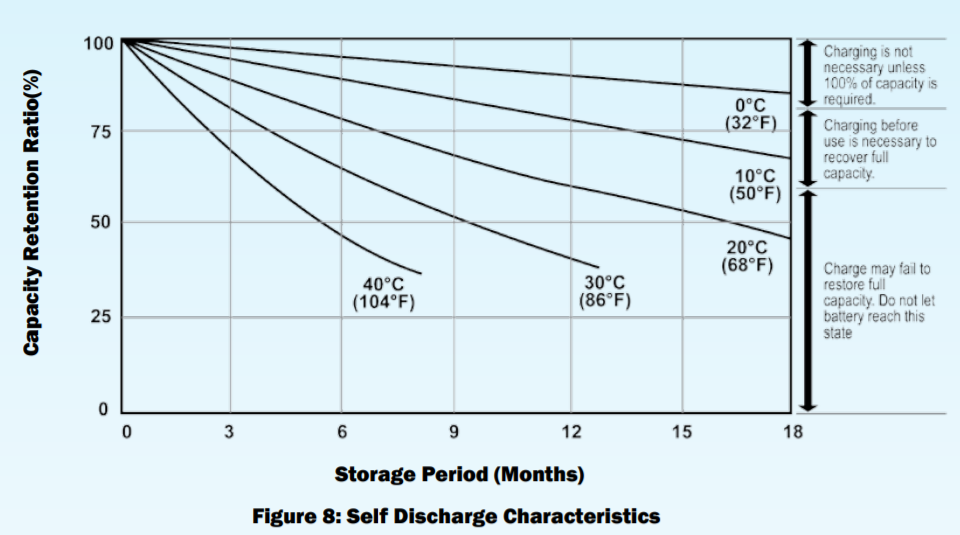 Battery Life
Cyclic Use: The number of charge/discharge cycles depends on the capacity taken from the battery (a function ofdischarge rate and depth of discharge), operating temperature and the charging method.
Standby Use: The float service life, or life expectancy under continuous charge, depends on the frequency and depth ofdischarge, the charge voltage, and the ambient temperature. At a float voltage of 2.25V to 2.30V/cell and an ambienttemperature of 20°C to 25°C (60°F to 77°F) Brava-Batteries batteries should last four to five years before the capacitydrops to 60% of its original rating.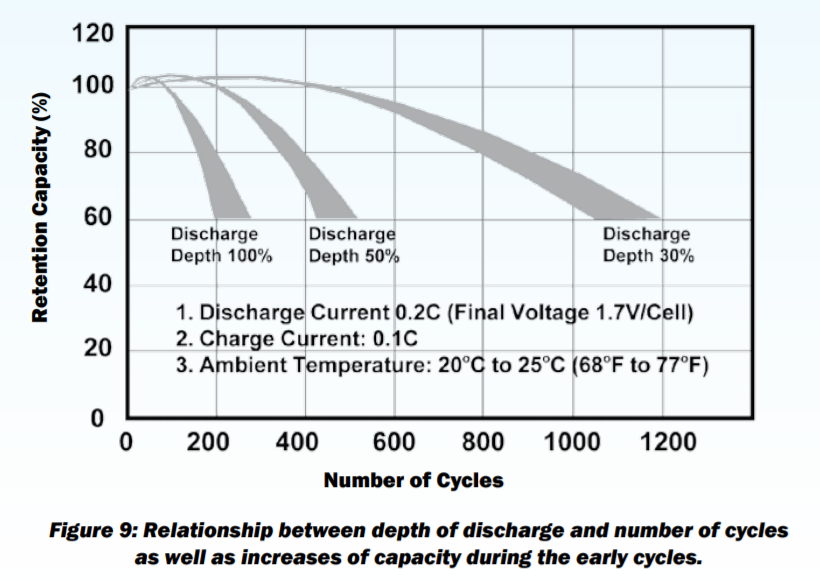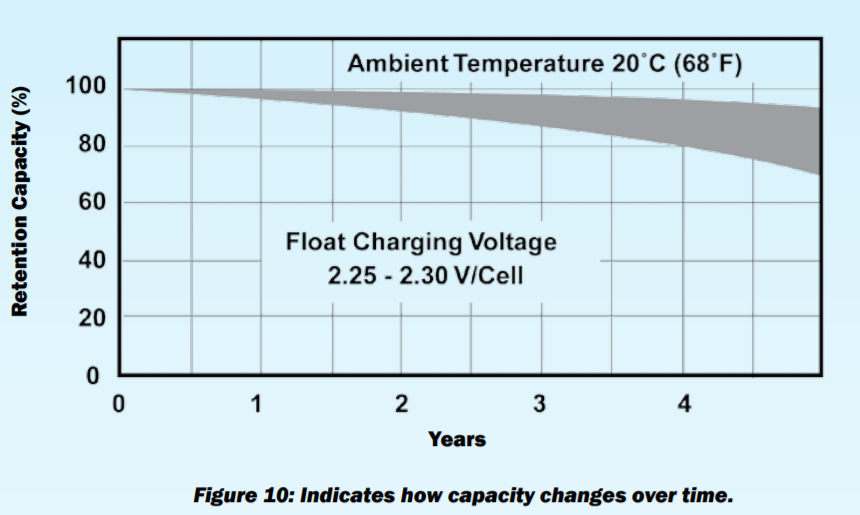 The graph in Figure 11 shows life characteristics in float (standby) service for ambient temperatures ranging from15°C to 55°C (60°F to 130°F). If prevailing ambient temperatures are well above 20°C to 25°C (68°F to 77°F) thelife expectancy of this type of battery in float service depends greatly on temperature compensated charging. The typicaltemperature coefficient is 2mV/cell/20°C and under.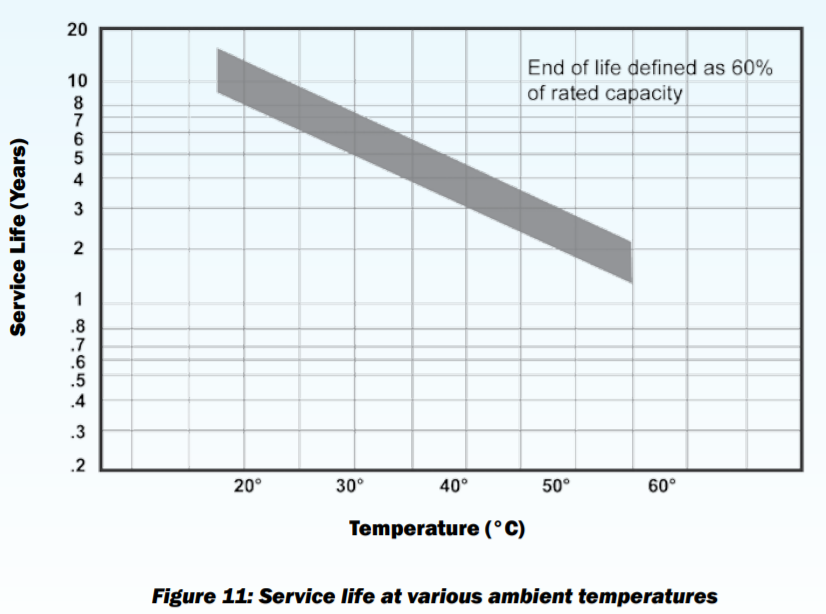 Over Discharge
To optimize battery life, it is recommended that the battery be disconnected from the load (either electronically ormanually) when the end voltage - a function of the discharge rate - is reached. It is the voltage point at which 100% ofthe usable capacity of the battery has been consumed or continuation of the discharge is useless because of the voltagedropping below useful levels. The final discharge voltages per cell are shown in Table 1 (Page 4).
Discharging a sealed lead-acid battery below this voltage or leaving a battery connected to a load will impair the battery'sability to accept a charge. To prevent potential over discharge problems, voltage cut off circuits as shown in Figure 12may be used.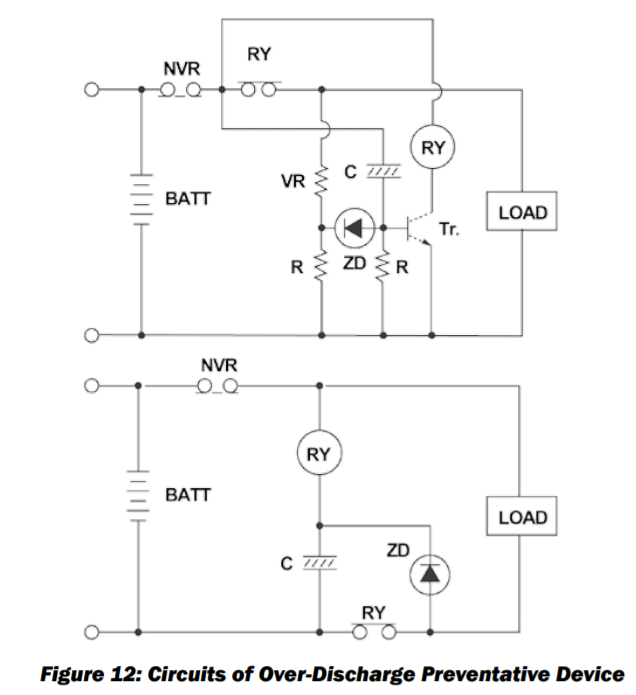 Charging
Dependable performance and long service lifedepend upon correct charging. Faulty procedures orinadequate charging equipment result in decreasedbattery life and/or unsatisfactory performance. Theselection of suitable charging circuits and methodsis as important as choosing the right battery for theapplication.
Brava-Batteries batteries may be charged by using any ofthe conventional charging techniques:
• Constant Voltage
• Constant Current
• Taper-Current
• Two Step Constant Voltage
To obtain maximum service life and capacity, alongwith acceptable recharge time and economy, constantvoltage-current limited charging is recommended.
To charge a Brava-Batteries SLA battery, a DC voltagebetween 2.30 volts per cell (float) and 2.45 volts percell (fast) is applied to the terminals of the battery.Depending on the state of charge, the cell maytemporarily be lower after discharge than the appliedvoltage. After some time, however, it should level off.
During charge, the lead sulfate of the positive platebecomes lead dioxide. As the battery reaches fullcharge, the positive plate begins generating dioxidecausing a sudden rise in voltage due to decreasinginternal resistance. A constant voltage charge,therefore, allows detection of this voltage increase andthus control of the current charge amount.
Additional information regarding charging methods canbe found on pages 13 through 19.
Charging
Charging Characteristics
During constant voltage or taper charging, the battery's current acceptance decreases as voltage and state of chargeincrease. The battery is fully charged once the current stabilizes at a low level for a few hours. There are two criteria fordetermining when a battery is fully charged: (1) the final current level and (2) the peak charging voltage while this currentflows.
Charging Methods
Selecting the appropriate charging method depends on the intended use (cyclic or float service), economicconsiderations, recharge time, anticipated frequency and depth of discharge, and expected service life. The key goal ofany charging method is to control the charge current at the end of the charge.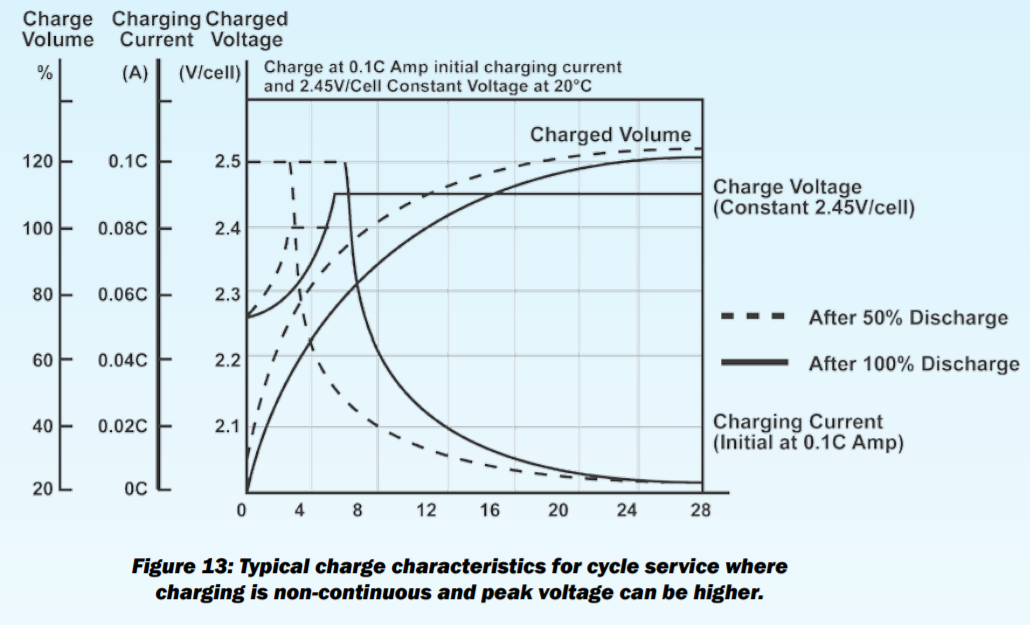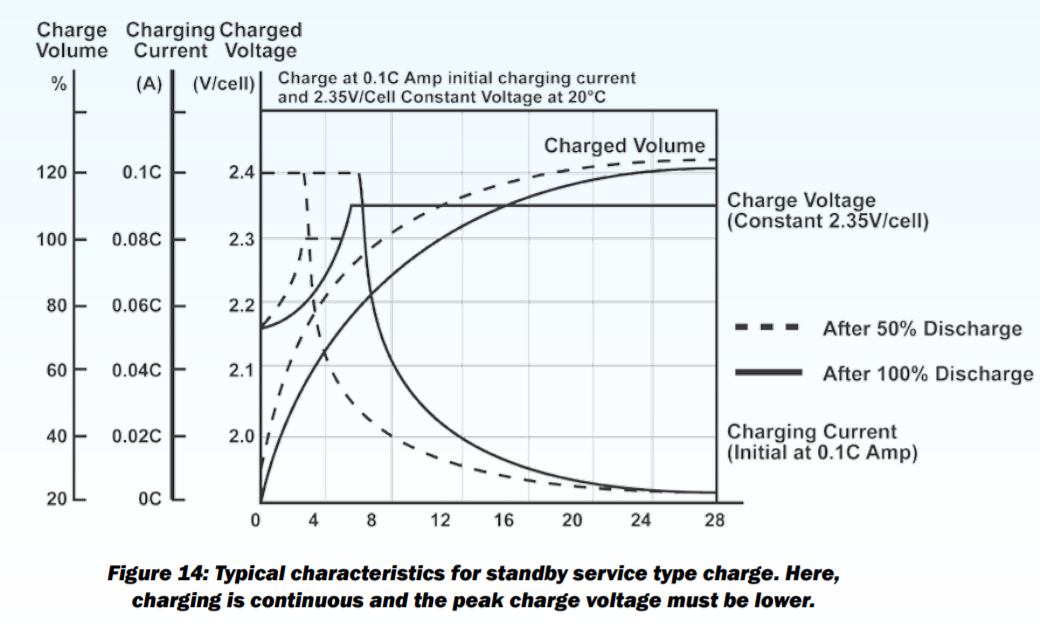 Constant Voltage Charging
Constant voltage charging is the best method to charge Brava-Batteries batteries. Depending on the application, batteriesmay be charged either on a continuous or non-continuous basis. In applications where standby power is required tooperate when the AC power has been interrupted, continuous float charging is recommended. Non-continuous cycliccharging is used primarily with portable equipment where charging on an intermittent basis is appropriate.
The constant voltage charge method applies a constant voltage to the battery and limits the initial charge current. It isnecessary to set the charge voltage according to specified charge and temperature characteristics. Inaccurate voltagesettings cause over- or under-charge. This charging method can be used for both cyclic and standby applications.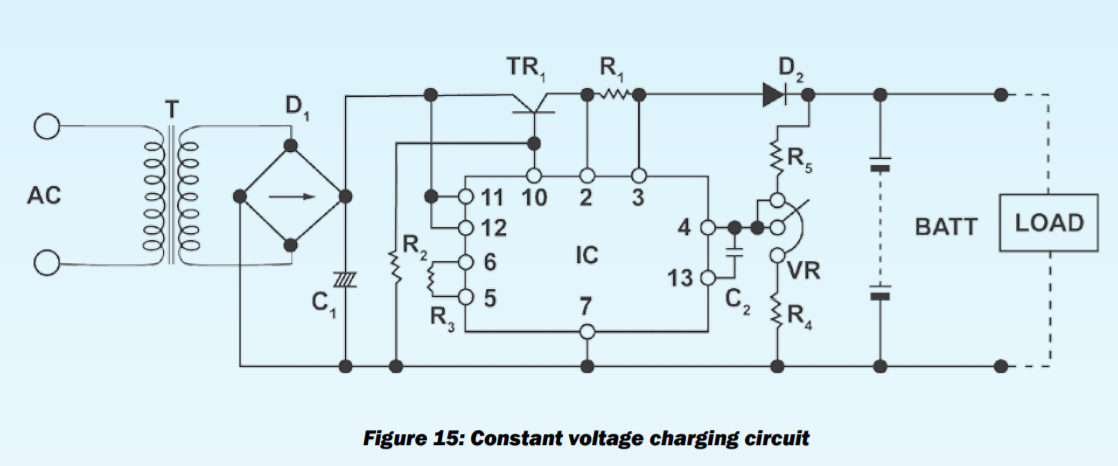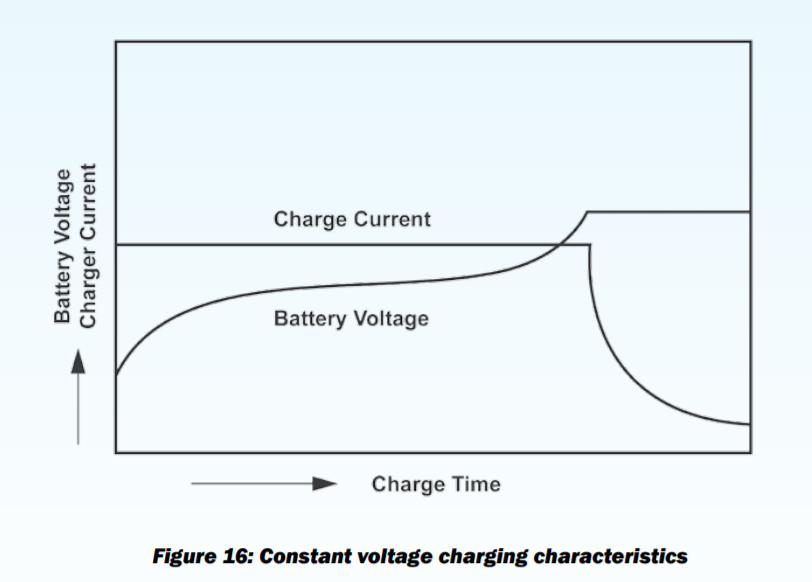 Constant Current Charging
Constant current charging is suited for applications where discharged ampere-hours of the preceding discharge cycle areknown. Charge time and charge quantity can easily be calculated, however an expensive circuit is necessary to obtain ahighly accurate constant current. Monitoring of charge voltage or limiting of charge time is necessary to avoid excessiveovercharge.
While this charging method is very effective for recovering the capacity of a battery that has been stored for an extendedperiod of time, or for occasional overcharging to equalize cell capacities, it lacks specific properties required in today'selectronic environment.
Taper-Current Charging
This method is not recommended as it is somewhat abusive of sealed lead acid batteries and can shorten servicelife. However, because of the simplicity of the circuit and low cost, taper-current charging is extensively used to chargemultiple numbers and/or for cyclic charging.
When using a taper-current charger the charger time should be limited or a charging cut-off circuit be incorporated toprevent overcharge. Please contact our technical department if you need assistance with this.
In a taper-current charging circuit, the current decreases in proportion to the voltage rise. When designing a taper chargeralways consider power voltage fluctuations. In this event the internal resistance drop will convert to heat. Heat generatedby the circuit should be measured and if required a heat sink should be incorporated in the design.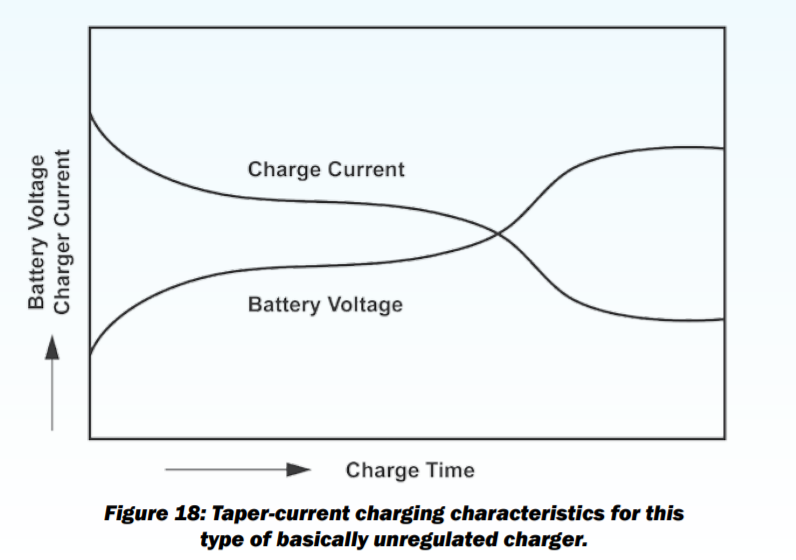 Overcharging
As a result of too high a charge voltage excessive current will flow into the battery, after reaching full charge, causingdecomposition of water in the electrolyte and premature aging.
At high rates of overcharge a battery will progressively heat up. As it gets hotter, it will accept more current, heating upeven further. This is called thermal runaway and it can destroy a battery in as little as a few hours.
Undercharging
If too low a charge voltage is applied, the current flow will essentially stop before the battery is fully charged. This allowssome of the lead sulfate to remain on the electrodes, which will eventually reduce capacity.
Batteries which are stored in a discharged state, or left on the shelf for too long, may initially appear to be "opencircuited" or will accept far less current than normal. This is caused by a phenomenon called "sulfation". When thisoccurs, leave the charger connected to the battery. Usually, the battery will start to accept increasing amounts of currentuntil a normal current level is reached. If there is no response, even to charge voltages above recommended levels, thebattery may have been in a discharged state for too long to recover.
Caution! Never charge or discharge a battery in a hermetically sealed enclosure. Batteries generate a mixture ofgases internally. Given the right set of circumstances, such as extreme overcharging or shorting of the battery,these gases might vent into the enclosure and create the potential for an explosion when ignited by a spark.
If in any doubt, or if concepts of proper use and care are unclear, please ensure that you contact Brava-Batteries's technicaldepartment.
Charging for Cycle Operation
Cyclic applications generally require that recharging be done in a relatively short time. The initial charge current, however,must not exceed 0.30 x C amps. Just as battery voltage drops during discharge, it slowly rises during charge. Full chargeis determined by voltage and inflowing current. When, at a charge voltage of 2.45 ± 0.05 volts/cell, the current acceptedby the battery drops to less than 0.01 x C amps (1% of rated capacity), the battery is fully charged and the charger shouldbe disconnected or switched to a float voltage of 2.25 to 2.30 volts/cell. The voltage should not be allowed to rise above2.45 ± 0.05 volts/cell.
Charging for Standby Operation
Standby applications generally do not require that the battery be charged as fast or as frequently as in cycle operation.However, the battery must be kept constantly charged to replace the energy that is expended due to internal loss anddeterioration of the battery itself. Although these losses are very low in Brava-Batteries batteries, they must be replaced atthe rate the battery self discharges; at the same time the battery must not be given more than these losses or it will beovercharged. To accomplish this, a constant voltage method of charging called "float charging" is used.
The recommended constant float voltage is 2.25 - 2.30 volts per cell. Maintaining this float voltage will allow the batteryto define its own current level and remain fully charged without having to disconnect the charger from the battery. Thetrickle current for a fully charged battery floating at the recommended charge voltage will typically hover around theO.OO1C rate (1OmA for a 10AH battery, for example.)
The float charger is basically a constant voltage power supply. As in cycle chargers, care must be exercised not to exceedthe initial charge current of 0.30 x C amperes.
Two-Step Constant Voltage Charging
This method uses two constant voltage devices. In the initial charge phase the high voltage setting is used. Whencharging is nearly complete and the charge voltage has risen to a specified value (with the charge current decreased), thecharger switches the voltage to the lower setting. This method allows rapid charging in cycle or float service without thepossibility of overcharging, even after extended charging periods.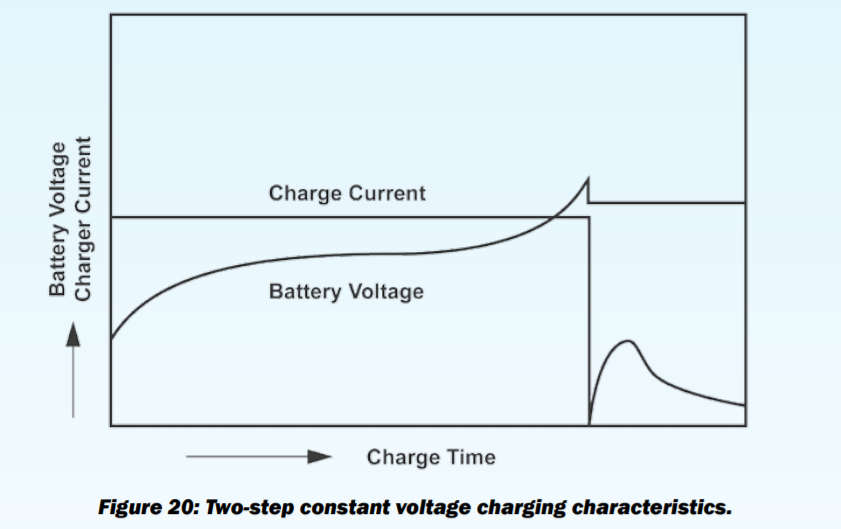 Charging in Series
Lead-acid batteries are strings of 2 volt cells connected in series, commonly 2, 3, 4 or 6 cells per battery. Strings ofBrava-Batteries batteries, up to 48 volts and higher, may be charged in series safely and efficiently. However, as the numberof batteries in series increases, so does the possibility of slight differences in capacity. These differences can result fromage, storage history, temperature variations or abuse.
Fully charged batteries should never be mixed with discharged batteries when charging in series. The dischargedbatteries should be charged before connection.
When a single constant voltage charger is connected across an entire high voltage string, the same current flows throughall cells in the string. Depending on the characteristics of the individual batteries, some may overcharge while othersremain in a slightly undercharged condition.
To minimize the effects of individual battery differences, use batteries of the same age, amp hour, and history and, ifpossible, charge in strings of no greater than 24 or 48 volts.
Charging in Parallel
Brava-Batteries batteries may be used in parallel with one or more batteries of equal voltage.
When connected in parallel, the current from a charger will tend to divide almost equally between the batteries. Nospecial matching of batteries is required. If the batteries of unequal capacity are connected in parallel, the current willtend to divide between the batteries in the ratio of capacities (actually, internal resistances).
When charging batteries in parallel, where different ratios of charge are to be expected, it is best to make provisions toassure that the currents will not vary too much between batteries.

Temperature Compensation
Brava-Batteries batteries perform well both at low and high temperatures. At low temperatures, however, charge efficiency isreduced; at temperatures above 45°C (113°F), charge efficiency increases so rapidly that there is a danger of thermalrunaway if temperature compensation is not precise.
The effect of temperature on charge voltage is less critical in float applications than in cyclic use, where relatively highcharge currents are applied for the purpose of short recharge times.
Temperature effects should definitely be considered when designing or selecting a charging system. Temperaturecompensation is desirable in the charging circuit, especially when operating outside the range of 5°C to 35°C(41°F to 95°F). The temperature coefficient is -2mV/cell/ºC below 20°C (68°F) in float use and -6mV/cell/ ºC below20°C in cyclic use. For higher temperatures the charge voltage should be correspondingly decreased.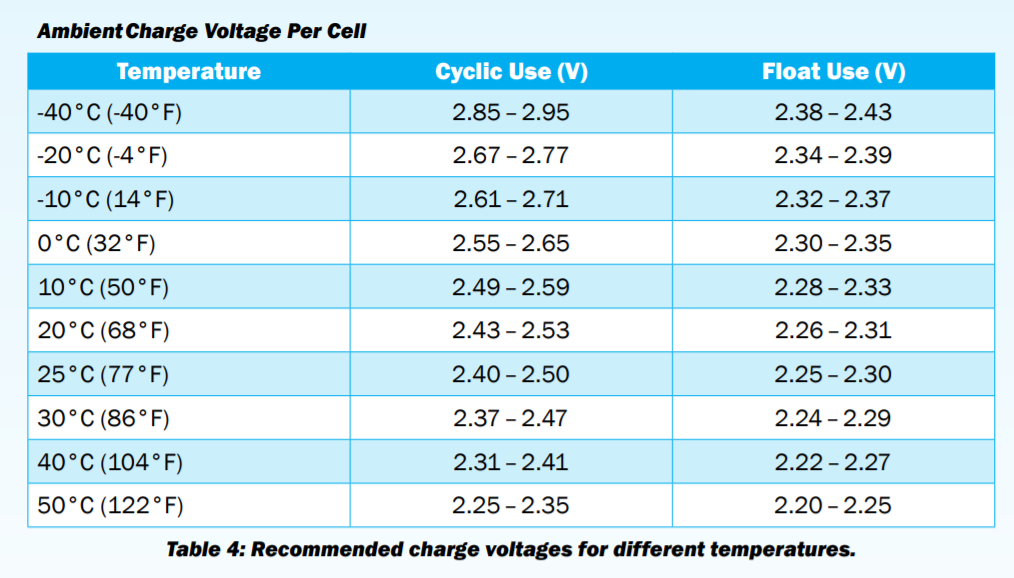 Top Charging
All battery lose capacity through self-discharge, it is recommended that a "top up charge" be applied to any battery thathas been stored for a long period of time, prior to putting the battery into service.
To successfully top charge a battery stored for more than 12 months, the open circuit voltage must be higher than 2.0volts per cell, in this case, always confirm open circuit voltage prior to attempting top up charging.
Charging Efficiency
The charging efficiency (η) of a battery is expressed by the following formula:
The charging efficiency varies depending upon the state of charge of the battery, temperatures, and charging rates. Figure21 illustrates the concept of the state of charge and charging efficiency. As shown in Figure 22. Brava-Batteries batteriesexhibit very high charging efficiency, even when charged at low charging rates.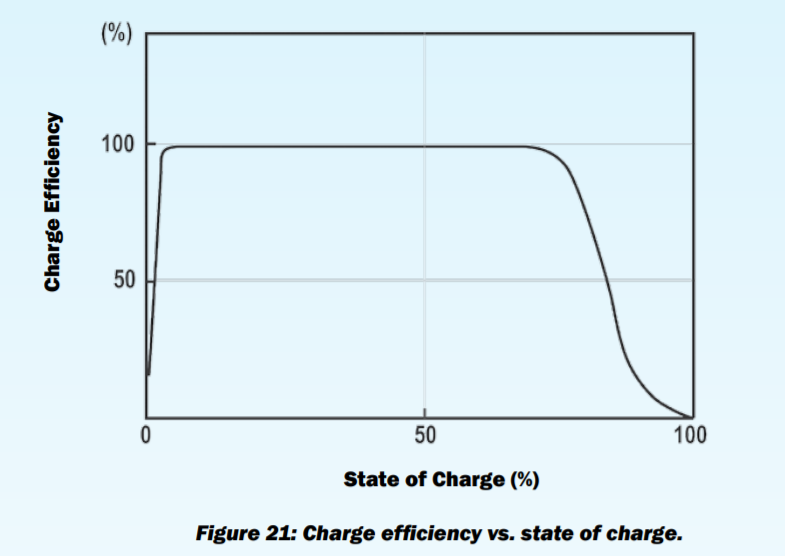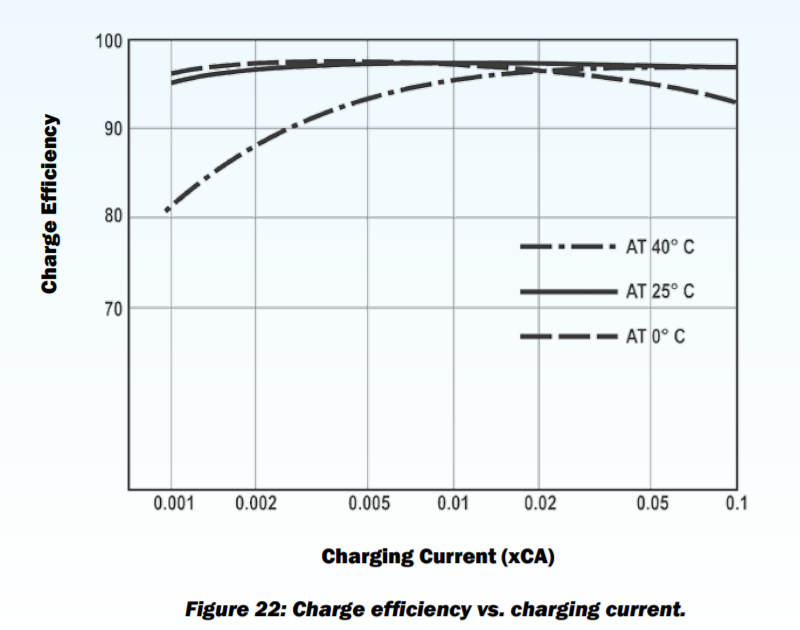 Important Do's and Don'ts
Brava-Batteries rechargeable sealed lead-acid batteries are designed to provide years of dependable service. Adherence tothe following guidelines will ensure that battery life is maximized and operation is trouble-free.
Material Safety Data Sheets (MSDS)
• It is important that you familiarize yourself with these prior to handling, installing and disposing of all batteries. Ifthere are any questions raised from these please contact Brava-Batteries's technical department.
Handling
• Always wear insulated gloves when handling batteries; especially when connecting series and parallel groups ofbatteries.
• Follow all precautions as described in our Materials Safety Data Sheets (MSDS). This information is subject tochange depending upon government legislation. Visit our website: www.BravaBatteries.com for up-to-date copies ofthese.
• If equipment is to be stored for a long period of time the batteries should be disconnected to avoid undue drain onthe batteries and any potential for damage to the equipment.
Installation
• Fasten batteries tightly and make provisions for shock absorption if exposure to shock or vibration is likely.
• When installing the battery within a piece of equipment, fix it securely at the lowest practicable point.
• The battery should not be attached to any piece of equipment during "burn-in" testing.
• Do not apply undue force to the terminals or bend them. Avoid applying heat to the terminals through processessuch as soldering.
• If soldering to the battery terminals is unavoidable it must be accomplished within 3 seconds, using a solderingiron no greater than 100 watts.
• Do not place batteries in close proximity to objects which can produce sparks or flames, and do not chargebatteries in an inverted position.
• Avoid exposing batteries to heat! Care should be taken to place batteries away from heat-emitting components. Ifclose proximity is unavoidable, provide ventilation. Service life is shortened considerably' at ambient temperaturesabove 30°C (86°F).
• To prevent problems arising from heat exchange between batteries connected in series or parallel, it is advisable toprovide air space of at least 0.4" (10mm) between batteries.
• Do not mix batteries with different capacities, different ages or of different makes. The difference in characteristicswill cause damage to the batteries and possibly to the attached equipment.
• Battery cases and lids made of ABS plastic can sustain damage if exposed to organic solvents or adhesives.
• For best results and generally acceptable performance and longevity, keep operating temperature range between-40°C (-40°F) and 60°C (140°F).
• It is good practice to ensure that the connections are re-torqued and the batteries are cleaned periodically.
• Do not attempt to disassemble batteries. Contact with sulfuric acid may cause harm. Should it occur, wash skinor clothes with liberal amounts of water. Do not throw batteries into a fire; batteries so disposed may rupture orexplode. Disassembled batteries are hazardous waste and must be treated accordingly.
Charging
• Batteries should not be stored in a discharged state or at elevated temperatures. If a battery has been dischargedfor some time, or the load was left on indefinitely, it may not readily take a charge. To overcome this, leave thecharger connected and the battery should eventually begin to accept charge.
• Continuous over-or undercharging is the single worst enemy of a lead-acid battery. Caution should be exercised toensure that the charger is disconnected after cycle charging, or that the float voltage is set correctly.
• Although Brava-Batteries batteries have a low self-discharge rate which permits storage of a fully charged battery forup to a year, it is important that a battery be charged within 6 months after receipt to account for storage fromthe date of manufacture to the date of purchase. Otherwise, permanent loss of capacity might occur as a result ofsulfation. To prolong shelf life without charging, store batteries at 10°C (50°F) or less.
• Although it is possible to charge Brava-Batteries batteries rapidly, i.e. in 6-7 hrs. it is not normally recommended.Unlimited current charging can cause increased off-gassing and premature drying. It can also produce internalheating and hot spots resulting in shortened service life. Too high a charge current will cause a battery to getprogressively hotter. This can lead to "thermal runaway" and can destroy a battery in as little as a few hours.
• Caution: Never charge or discharge a battery in an airtight enclosure. Batteries generate a mixture of gasesinternally. Given the right set of circumstances, such as extreme overcharging or shorting of the battery, thesegases might vent into the enclosure and create the potential for an explosion when ignited by a spark. Generally,ventilation inherent in most enclosures is sufficient to avoid problems.
• When charging batteries in series (positive terminal of one battery is connected to the negative terminal ofanother) the interconnecting cables must all be of equal length and resistance to insure equalization of the load.All batteries in the string will receive the same amount of charge current, though individual battery voltages mayvary.
• When charging batteries in parallel (positive terminals are connected to the positive terminal and negativeterminals to the negative), all batteries in the string will receive the same charge voltage, but the charge currenteach battery receives will vary until equalization is reached.
• High voltage strings of batteries in series should be limited to twenty 6 volt or ten 12 volt batteries when a singleconstant voltage charger is connected across the entire string. Differences in capacity can cause some batteriesto overcharge while others remain undercharged thus causing premature aging of batteries. It is, therefore, notadvisable to mix batteries of different capacities, make, or age in a series string.
• To minimize the effects of cell or battery differences, charge the string in 24 volt battery groups through a constantcurrent source with zener diode regulation across individual batteries or battery groups.
• Recharge time depends on the depth of the preceding discharge and the output current of the charger. Todetermine the approximate recharge time of a fully discharged battery, divide the battery's capacity (amp. hrs) bythe rated output of the charger current (amps) and multiply the resulting number of hours by a factor of 1.75 tocompensate for the declining output current during charge. If the amount of amp. hrs. discharged from the batteryis known, use it instead of the battery's capacity to make the calculation.