Lead Acid Market by Technology (Basic, Advanced Lead Acid), Type (Stationary, Motive), Construction Method (Flooded, VRLA), End-User (Utilities, Transportation, Industrial, Commercial & Residential), and Region - Global Forecast to 2024
The global lead acid battery market is projected to reach USD 52.5 billion by 2024 from an estimated USD 41.6 billion in 2019, at a CAGR of 4.7% during the forecast period. The booming telecommunication sector and expanding data industry, require a cost-effective battery storage solution to provide for backup power is expected to be the most significant catalyst driving the development of this market.
A lead acid battery is an energy storage device that is used extensively in automotive, energy storage, and telecommunication industries and for several other purposes in various sectors, such as utilities, marine, manufacturing, and chemical & pharmaceutical industries.
The transportation segment is expected to dominate the lead acid battery market, by end-user, from 2019 to 2024
Lead acid batteries are used widely across industries. The market has been segmented, by end-user, into utility, transportation, industrial, and commercial & residential. The transportation segment dominated the market in 2018 and is expected to lead the lead-acid battery market during the forecast period. This is primarily because these batteries are cost-effective and are preferred for the installation in internal combustion vehicles for SLI applications.
The motive segment will continue to dominate the lead acid battery market, by type, from 2019 to 2024
The lead acid battery market has been segmented, by type, into stationary and motive. This segmentation is based on the nature of the application in which the battery unit is being used. A lead acid battery is most commonly used because of its cost-effectiveness. The nature of this battery impacts the applications in which it is being used and also the kind of users that are implementing the same.
Asia Pacific is expected to grow at the highest CAGR during the forecast period
Asia Pacific dominated the global lead acid battery market in 2018 because the region comprises relatively developing countries that require cost-effective energy storage solutions. The industrial and commercial & residential sectors, along with the transportation sector, proved to be the major consumers of these battery systems. The Asia Pacific region is expected to lead the market during the forecast period. China, Singapore, South Korea, Japan, and India are considered the main industrial hubs and offer tremendous growth opportunities for the lead-acid battery market in this region.
Market Dynamics
Driver: Cost-competitive energy storage solution
In the current scenario, the cost or expenditure, be it any business, is a critical component defining the success of the business. Expenditure on energy storage forms a key component, especially for industries, which is why numerous companies invest a lot in battery storage solutions. Below is a list determining the same.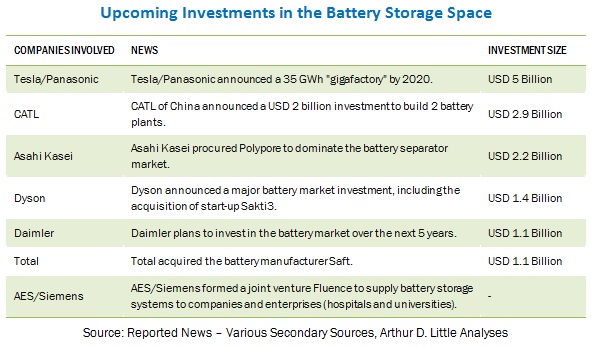 In this competitive market, the slightest of fluctuations in pricing becomes critically important in determining which manufacturer dominates the market. Although lithium-ion batteries are well poised to become the next big thing in the battery storage space, the difference in the pricing, leading to a significant overall cost difference, forms a crucial factor for its preference over lithium-ion batteries. The trend so far has been that the lead-acid battery technology is cheaper when compared with other types of battery storage systems. This price difference plays a crucial role in investments of the above-stated nature. To extract the maximum potential of a big-ticket investment, the individual component pricing is very vital as it maximizes the potential of the overall investment.
Restraint: Low-cost alternatives in energy storage space
Until recently, lead-acid batteries have been the most cost-effective technology. However, with the rise of alternative battery storage technologies, especially the lithium-ion technology, lead-acid batteries are losing out on the cost-effectiveness quotient. Lead-acid batteries are witnessing a price drop nearly across all industries. Simultaneously, the Nickel-Metal Hydride (NiMH) battery is a proven and mature technology for hybrid applications. It is used by Original Equipment Manufacturers (OEMs), including Toyota, Honda, and Lexus. The OEMs prefer these batteries for their safety, performance, and longer lifecycle in hybrid applications. Also, along with NiMH batteries, even nickel-cadmium batteries prove to be a cost-efficient solution for battery storage users. They are cheaper and more effective as an alternative to lead-acid batteries.
Opportunity: Expanding data center infrastructure
Massive demand for battery storage is found in data centers. Any power disruptions and inconsistencies in data centers may prove crucial. Thus, lead-acid batteries mostly cater to the backup power needs of this particular industry. Also, the UPS used in the industry are primarily lead-acid battery systems. Therefore, a significant amount of this category of batteries is used in this industry.
In the near future, significant demand is foreseen for the installation of data centers. With the growing generation of data, the data handling capacity is also expected to increase in the years to come. As data centers use lead-acid batteries, their demand is consequently bound to increase.
Limited usage capacity of lead-acid batteries
Lead-acid batteries are expected to have a low useable capacity. It is typically taken into consideration to use just 30–50% of the rated capacity of a typical lead-acid battery. This indicates that a 600 Ah battery bank in daily practice provides only, at the maximum, 300 Ah of actual capacity. If one even occasionally drains the batteries more than this, their life would drastically reduce. Also, these batteries waste energy and have major efficiency issues. They consume as much as 15% of the energy put into them via built-in charging, indicating inefficiency. Hence, if one supplies 100 A power, one would only be storing just 85 Ah. This can be frustrating when using the solar mode of charging when one is trying to squeeze as much efficiency out of every ampere as possible before sunset or gets covered up by clouds.
Scope of the Report:
| | |
| --- | --- |
| Report Metric | Details |
| Market size available for years | 2017–2024 |
| Base year considered | 2018 |
| Forecast period | 2019–2024 |
| Forecast units | &USD Million (Value) |
| Segments covered | Technology, Type, End-User, Construction Method, and Region |
| Geographies covered | North America, South America, Europe, APAC, and Middle East & Africa |
| Companies covered | EnerSys (US), Exide Industries (India), GS Yuasa (China), Clarios (US), Panasonic (Japan), Chaowei Power (China), Narada Power (China), HBL Power Systems (India), Crown Battery (US), NorthStar (Sweden), Hitachi Chemical (Japan), Exide Technologies (US), Teledyne Technologies (US), East Penn (US), Hankook AltasBX (Korea), HOPPECKE (Germany), C&D Technologies (US), Rolls Battery (Canada), Camel Power (Malaysia), Amara Raja Power System (India), XUPAI Battery (China), Okaya Power (India), Leoch International Technology (Hong Kong), Harbin Coslight Power (China), and First National Battery (South Africa) |
This research report categorizes the lead acid battery market based on technology, type, construction method, end-user, industrial, and region
By Technology
By Type
By Construction Method
By End-user
Utility

Transportation

Industrial

Commercial & Residential
By Industrial
Data Centers

Telecom

Oil & Gas

Others
By Region
Asia Pacific (China, Japan, India, South Korea, Rest of APAC)

North America (US, Canada, Mexico)

Europe (Germany, UK, Italy, Russia, Rest of Europe)

Middle East & Africa UAE, Saudi Arabia, South Africa, Rest of the Middle East & Africa)

South America (Brazil, Columbia, Rest of South America)
Key Market Players
EnerSys (US), Exide Industries (India), GS Yuasa (China), Clarios (US), Panasonic (Japan)
Recent Developments
In August 2019, EnerSys announced the expansion of its manufacturing capabilities at two factory locations, namely, Pennsylvania and Florida, to cater to the increasing demand from the aerospace and defense segments.

In August 2019, Narada Power won a contract from the United Nations (UN) project affairs to supply high-temperature HTB series batteries. The company supplied its batteries for the Yemen Hospital power supply project, funded by the World Bank and under the responsibility of the UN project office.

In March 2019, GS Yuasa opened a new automotive lead-acid battery plant in Turkey. The plant would be operated by İnci GS Yuasa Akü Sanayi ve Ticaret Anonim Şirketi (IGYA), an equity affiliate of GS Yuasa.

In November 2018, Exide Industries launched a new range of online UPS called Power NXT. This range of batteries would cater to the needs of the Small Office Home Office (SOHO) and large format retailers.

In March 2017, NorthStar launched RED and RED HT batteries to expand its reserve power portfolio. The RED series uses pure lead TPPL technology to deliver a recharge time of 6 hours from 50% state of charge to 100%. The RED HT series uses pure lead high-temperature–TPPL-HT technology to deliver a long life up to 7 years and better performance at an operating temperature of 40C (104F). This battery is suitable for high-temperature applications.
Key questions addressed in the report
What are the disruptive technology trends that will be seen over the next five years?

Which segments of the lead-acid battery market elements will lead by 2024?

Which of the construction method segments will have the maximum opportunity to grow during the forecast period?

Which will be the leading region with the highest market share by 2024?